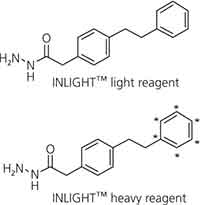 INLIGHT™ Glycan Tagging Kit
1 KIT
| | |
| --- | --- |
| Chemical purity | 98% |
| Reference | GTK-1000 |
| Unlabeled CAS Number | |
| Labeled CAS Number | |
| Linear formula | |
| Manufacturer | Cambridge Isotope Laboratories |
The INLIGHT kit contains a 13C-labeled  and unlabled hydrazide reagent, as well as a maltoheptose oligosaccharide (for quality control). The hydrazide tagging derivatization has been demonstrated to  increase the hydrophobicity of the enzymatically  cleaved glycans and improve their ionization efficiency for enhanced RP-LC-MS analysis.
This kit provides:
• Material for up to 20 runs
• Detailed user manual.
The INLIGHT protocol is adept at quantitatively comparing the N-glycan and heparin oligomer profiles of sample digests (e.g., case vs. control) in a rapid and straightforward manner.1,2
In  such experiments, glycan identification is facilitated by authentic standards, while data analysis can be accomplished in Skyline.3
1. Hecht, E.S.; McCord, J.P.; Muddiman, D.C. 2016. A quantitative glycomics and proteomics combined purification strategy. J Vis Exp, 109, 53735-53749.
2. Comparative analysis of INLIGHT™-labeled enzymatically depolymerized heparin by reverse-phase chromatography and high-performance mass spectrometry. Anal Bioanl Chem, 409(2), 499-509.
3. N-linked glycosite profiling and use of Skyline as a platform for characterization and relative quantification of glycans in differentiating xylem of Populus trichocarpa. Anal Bioanal Chem.
Technical product information