Proteus™ QC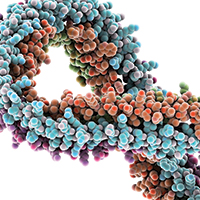 The majority of research within the field of MS-based proteomics has focused on the relative quantitation of candidate protein biomarkers using bottom-up LC-MS methodologies in conjunction with stable isotope-labeled standards (SIS).
Though significant progress has been made in the field of quantitative proteomics, bottlenecks, such as assessing variability associated with proteolytic digestion and employing adequate quality control checks, often slow the process. In an effort to overcome these issues, Cambridge Isotope Laboratories, Inc. (CIL) offers  ProteusQC™, a kit designed to improve data quality and analytical reproducibility in quantitative proteomics.
 
This kit can:
Enable retention time calibration
Assess system suitability
QC the digestion process
Provide a global normalization standard of a user's peptides /proteins of interest without the need for individual SIS peptides or proteins for each given target.
Kit Features and Benefits:
Precise retention and indexing
Digestion efficiency check of ApoA-1
LC-MS system suitability 
Absolute/relative protein quantification
Reduced experimental cost 
Improved overall data quality
Given the importance of QC in LC-MS/MS-based proteomics experiments (from basic R&D to clinical applications), MacCoss and colleagues developed an external Skyline tool for evaluating and tracking platform performance in a systematic and longitudinal fashion. Their newly launched pipeline, termed Panorama AutoQC (PMID: 27700092), builds on earlier work in Statistical Process Control in Proteomics (SProCoP; PMID: 24496601), enabling automated system/assay assessment in real time. The pipeline is vendor and instrument independent, and supports an array of acquisition techniques (e.g., MRM, PRM). Described in the Panorama AutoQC article is the QC workflow and its utility in system suitability, new technology evaluation, and long-term instrument performance with peptide mass spectral data.
Related Products